Osso Bucco
---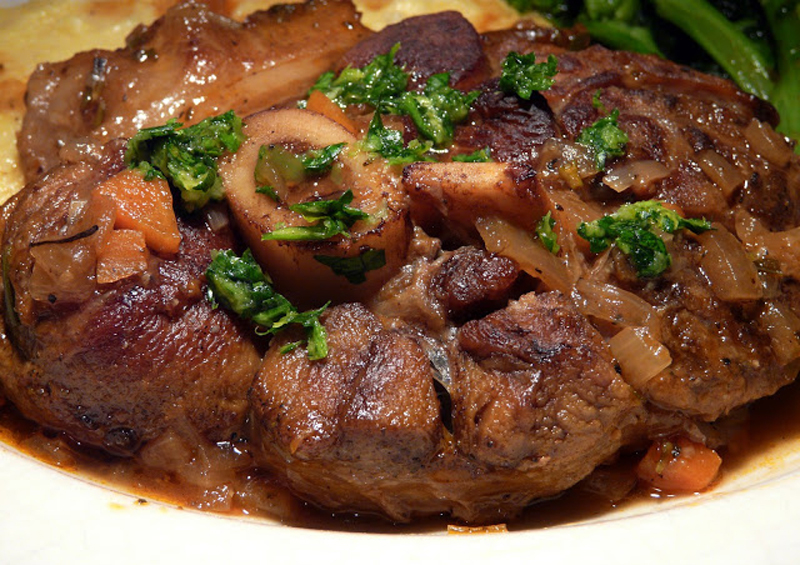 Learn how to prepare our wonderful Osso Bucco recipe at home. A great meal any time of the year, but as Fall approaches this is a great cool weather meal that can prepared ahead and stored up to three days in the refrigerator.
From being a regional dish from Piedmont in Italy has become a favorite worldwide. Thick slices from the veal shank with its central marrow bone are key to Osso Bucco, so that the meat remains moist and becomes tender enough to fall from the bone.
Osso Bucco flavors are even better the second or third day as all the ingredients have blended to perfection, deepened and mellowed. This is a dish that can easily be reheated for a quick meal to serve with mashed potatoes, polenta, or noodles.
Ingredients:
2.5 to 3 lbs. Veal Shanks
2/3 cup White Onions diced small
1/2 cup Celery diced small
1 Carrot diced small
2 cups of Whole Pear Tomatoes chopped
1 Bay Leaf
1 cup Chicken Broth
1 tsp. Garlic peeled and chopped
1 tbsp. of Italian Parsley chopped
1/2 tbsp. Anchovy Filet chopped
1/4 tsp. Lemon Zest
2 tbsp. Pure Olive Oil
4 oz. White Cooking Wine
Cut the veal meat into 1.5 inch pieces. Heat a stew pot or dutch oven on the stove and add olive oil and cut up veal shanks.
Brown the veal shanks till brown on both sides and when nicely browned set aside. Add the onions, celery and carrots and saute vegetables for a few minutes, till the onions are clear, then add the tomatoes and bay leaf to the mixture and continue to simmer over low heat.
After the tomatoes start to break up add the white wine to the pot along with the parsley, chicken broth, and salt and pepper, continue to simmer over low heat.
Preheat your oven to 350 degrees.
In a casserole large enough to place the veal shanks in a single layer, poor the sauce you have cooked over the veal shanks and cover with foil. Bake in a preheated oven for about an hour.
Test the veal shanks with a bamboo skewer, it should easily pass through the meat and the meat should be falling from the bone when fully cooked.
When meat is done, remove from the casserole and keep warm. Decant the sauce into a large pot over low heat and add chopped garlic, anchovies, and lemon zest. Cook for 10 minutes or so; until flavors have mingled.
Arrange the veal shanks on a serving platter and poor the sauce over the top.
Buon Appetito