Our Customers Recommend Il Pavone
"We are regulars because we love your restaurant, the staff (you have the nicest waiters in CC County – the world), the wonderful chef and the friendliest owners! Everything is always perfect!" Sandra H.
"Love this place!! Amazing authentic Italian food, with great service!"
Emily K. Concord, CA
"If I could give more stars I would: attentive, and friendly staff. The owner is one of the nicest people I have ever met and made me feel like we were guests in his home. The food is AMAZING!!!!!!!
For appetizers we got breaded zucchini, oysters, and pressucito (sp) everything was so light and tasty. For dinner I had fettuccine Alfredo with chicken and my friend had the swordfish special. Mine was about 10x better than any fettuccine I have ever had.
I told my friends and it was absolutely delicious too. For dessert I had a chocolate mousse type dish, while my friend had canoli (sp). Both were very flavorful, not to rich, and ultra satisfying for my sweet tooth. Honestly, I could easily eat here every night and be perfectly content in my life. I guarantee that anyone will find something to like here, and you must try it!!!!!!! Would give 10 stars if I could. Will definitely be going back, hopefully in the near future."
Jackie Y. Walnut Creek, CA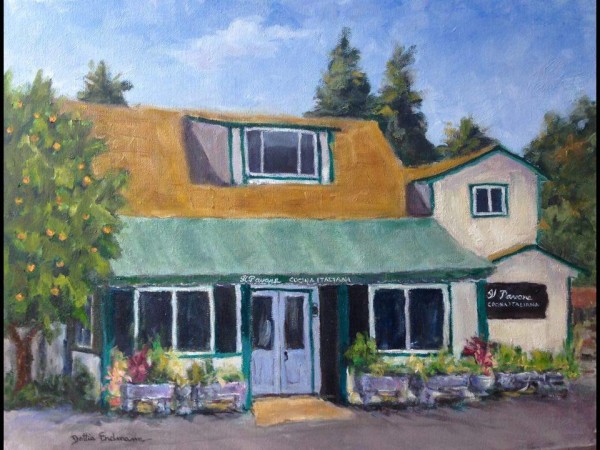 Artist: Dottie Erdmann
"Don't even think about getting a table here before 7PM, it's a town over from Rossmoor and you can definitely tell, the place is packed at 4-7ish and will start filtering out after that. The restaurant itself is older but so cozy and the food is so great. My favorite is just a house salad with the house vignette and the lasagna. OH,MY,WOW the lasagna is so flippin amazing, but careful–you'll burn your tongue off it's so hot when served. The dish is sooo filling and if you're splitting the dish with someone, they will separate it for you. The staff is so friendly and feels like a family business. Prepare to spend some time here because you'll love talking with your waiter//bartender! "
 Bora C. Lafayette, CA
"Il Pavone is a treasure.  Most authentic Italian cuisine outside of Italy (and yes I have been there!)  Make a reservation (this place is popular with the Rossmoor hipsters).
When I was living in Walnut Creek I would pass by this place on my way to school and decided to try it one night. The place was packed and run by an Italian woman who was so sweet. She only had a table outside so she gave us glasses of wine.  The pasta was so incredibly delicious-mmmmm I still crave their pesto and trek out from the city!  If you want to have an authentic Tuscan meal I highly recommend- their veal is melt in your mouth heavenly like OMG I feel bad for eating this."
Erica B. Berkeley, CA
"You need to use a little bit of discipline to not fill up on their incredible bread and butter but if you're a pasta fan, it's worth leaving room for their awesome array of pastas. I especially like their spaghetti bolognese, ravioli and cannelloni. And the service is friendly and outgoing with Nick and staff.
If you like good old fashioned homemade Italian dishes without the frills, check out Il Pavone! It's right up there with my Italian mama's cooking."
Jim M.Moraga, CA
"I don't understand why being popular with old people and/or being near Rossmoor is a slam. When I go to a restaurant, I'm evaluating the quality of the food and the service and the ambiance. I'm enjoying the company at my table. Frankly, I could care less about the other diners. Caveat: loud obnoxious people are a turn off and slam at the restaurant if the restaurant is all about that.
My husband and I have eaten at Il Pavone several times a year since we moved to the neighborhood in 1992. In '92 we were newlyweds in our late 20's and early 30's. So every time we go, we close the gap between us and the old people.
Since we've been so many times, we've gotten to know a bit about the family. Marcello grew up cooking with his father, Marcello, Sr. (previous owner of Marcello's, Danville). He and his brother Nick spent most, if not all, their childhood summers in Italy (I think in Lucca, but I could be wrong) with their Italian grandparents. Their mom, who is the definition of warm and in control front-door host has retired, and we miss her.
We are also avid cooks who make our own mustards, hot sauces, chutneys, jams, cured meats, etc. We appreciate Marcello's attention to detail — he makes his own sausages and pastas, cures his own salmon and prosciutto, etc. Many "good" restaurants just buy that stuff.
OK, but what about the food??
The food at Il Pavone is consistently great. Here are our favorite items (I scraped the PDF on their website to get the spelling):
Salmone Marinato ai Tre Pepe – house cured salmon, people!
Zuppa del Giorno – just order it. Whatever it is, it's going to be good.
Capellini D'Angelo con Capesante
Capellini al Crudo di Pomodoro
Pollo alla Diavola
Pollo al Mattone
Animelle di Vitella con Funghi (swoon!)
Bistecca al Pepe Nero (double swoon!)
Calamari Dore` all`Agro di Limone
They also have a solid wine selection. Just go. Stop checking out the other tables. There are pick-up bars for that. Yes, the decor is dated. So what? There are plenty of places in WC with killer decor, but the food and/or service stink (can you hear me, Vesu? Oh that's right, you've closed because your inconsistent food and bad service).
Go to Il Pavone. Relax, spend some time, and have a great meal."
Sylvan B. Walnut Creek, CA
"Five stars due to the superb quality of the Linguine alle Vongole! There were SOOOO many fresh clams, I couldn't finish them all!
Typically restaurants are very stingy when you order seafood pasta dishes – maybe 6 or 8 clams, shrimp or mussels. This dish had so many clams, both in shell and not, I couldn't finish them all. The broth on the pasta was fabulous – perfect for bread dipping after the noodles are gone.
+ The restaurant was pretty quiet for lunchtime
+ Great service – the waiter was so nice! I wish they had name tags so I could give him credit
+ Superb dishes – not 5 star restaurant quality, but very fresh and home-made feeling
+ Prices aren't outrageous
+ Next to Rossmoor – great place to take grandparents!"
 Laura W. San Jose, CA
"In nearly 10 years of dining at Il Pavone I have never been served a bad meal. Every meal has been perfectly prepared and the service has always been top notch. Il Pavone has become our go to place for special occasions such as Birthdays, New Years and Valentines Day. The specials have always been a good bet, but our favorite menu choices are shown below. Portions are not huge, but just the right size to leave you completely satisfied. The meat dishes usually come with roasted potatoes and a wonderful assortment of veggies. We almost always share an order of Profiteroles for dessert. They maintain a well rounded wine list, but we usually bring a bottle to share.
We have brought guests on several occasions which resulted in raves and requests to return. I look forward to returning to Il Pavone for many years to come.
For Starters:   Baked Clams Leonardo
Salad:   Insalata Caesare
My favorite entree:  Vitella con Funghi e Carciofi (Veal Sautéed in a White Wine Sauce with Mushrooms and Artichokes).
My Girlfriend's favorite entree:  Calamari Dore all Agro di Limone (Calamari Steak Sautéed in White Wine, Lemon and Parsley)."
 Robert D. Concord, CA
"Love this place! I have eaten here on several occasions and I am always pleasantly surprised. I love that they have new specials all the time. The Risotto is always amazing no matter what ingredients they use!
We always have great service when we visit!"
Lynn S. Fairfield, CA
"Without getting too much into this all I can say is that this is a fantastic family-run restaurant that serves great Italian food.  The thing that sets this food apart from others is it's ability to nourish the taste buds as well as fill your stomach.  I've never left hungry from Il Pavone.  As far as my tastebuds go I prefer the lasagna which is served piping hot but once allowed to cooled is tremendous.  Every so often the diner may be able to converse with the restaurant's owner Nick who does a great job at making the diner feel welcome in his restaurant.  (No, I am not a friend or member of the family but I definitely feel like a friend when I step into this restaurant.)"
Ben L. Walnut Creek, CA
"This is a marvelous restaurant which I wholeheartedly endorse. While the food is tremendous, it is the staff that really sets this restaurant above and beyond most others.  They are knowledgeable and friendly.  Try this place, you will not be disappointed."
Roy E. Alamo, CA
"This is a relatively unknown place, off the beaten path. Probably because of its proximity to Rossmoor, people don't think to venture that way. Their loss, because the food is great, and the setting cozy. We have been there over 5 times, and each time felt that the staff went out of their way to make it a unique experience, from the singing waiter to the fact that they will let you stay long after closing to finish your meal. One of our favorites."
Timothy J. Alamo , Ca